Image

Slide Text
Pomerene Hall: A hub for innovation
The Translational Data Analytics Institute's home in Pomerene Hall provides institute affiliates and partners with a variety of flexible workspaces and tools for collaborative research and teaching. This vibrant facility is the result of a $42 million investment by the state of Ohio to create a university hub for data analytics innovation.
Advanced
Text
Pomerene Hall COVID-19 Information
Masks are required indoors, regardless of vaccination status. Please see the full Pomerene Hall policy on the COVID-19 Policy page
Accordion Header

COVID-19 Updates for 2021-22
Text
All of TDAI's spaces are open for use at full capacity.
To reserve a specific room, please contact tdai-events@osu.edu or complete the reservation form. Reservations are accepted from TDAI Faculty Affiliates.
TDAI staff will be onsite full time during business hours starting August 9, 2021.
Hand sanitizer and disinfectant wipes are available in every TDAI meeting space.
Please do not hesitate to reach out to TDAI staff in rooms 300 or 175, or through tdai-events@osu.edu, for any questions about room technology or reserving spaces.
Text
All TDAI Spaces are…
Accessible 24/7 to TDAI affiliates with a university ID and to TDAI-sponsored guests with a swipe card. For assistance with access, contact Andrew Jones in 175 Pomerene, call 614-514-5961, or email tdai@osu.edu.
First-come, first-served unless previously reserved. Unreserved space cannot be "claimed" by an individual or team, and personal belongings should not be left in the space.
BYOD (Bring Your Own Device). Cords and connectors are not provided except in conference rooms.
Not private. Take care to protect data used on public computers and to delete anything that you do not wish to share with others. TDAI is not responsible for the loss of or damage to data used on public computers.
Text
A complete description of the TDAI spaces in Pomerene Hall available can be found in this PDF document.
Text
Reserving TDAI space
To request a reservation, click here. A TDAI faculty affiliate must be the person to make the initial space request. Rental information for users not affiliated with TDAI can be found here.
Once the request is confirmed, the affiliate making the request may name a delegate to manage planning and scheduling changes on their behalf. All email communications about the reservation must cc the organizing affiliate. Also at that time, the TDAI Events & Space Coordinator will add the reservation to the university's space calendar in Outlook.
Users should only use Outlook invitations to the space when a Skype meeting is planned and only after the reservation is confirmed.
If technical assistance is needed for Skype meetings, please let the Events & Space Coordinator know so that OCIO event and meeting support can be scheduled. Also, please report any technical issues with Skype meetings to the Events & Space Coordinator so that they can be addressed by OCIO.
Any reserved space left unoccupied for 30 minutes past the reservation time is made available for use by others.
For Classroom Pool spaces in Pomerene Hall (lecture halls 150, 160, 250, 260 and 280), please follow the Registrar's instructions for reservations through the SIS system. More information here.
Student Organizations can reserve Classroom Pool spaces in Pomerene Hall (lecture halls 150, 160, 250, 260 and 280) through the Student Union. More information here.
Text
Scheduling Priority
First priority for space usage is given to TDAI initiatives, including research community of practice meetings and seminars, TDAI pilot funding teams, TDAI foundational industry partners, and special events. Meeting spaces and labs are then made available to all TDAI faculty affiliates. Larger rooms may also be rented for special events. As a research facility, TDAI spaces may not be used as study areas for students or postdocs.
Text
Team Spaces
Outfitted with Solstice pods that allow users within a space to share and control displays and content wirelessly.
Ideation Zone | Room 320 (shown at right)
Capacity: 175 (event capacities vary)
A two-story adaptive space with three labs (see below), whiteboards, interactive displays and a bartop area.
Laboratories | Rooms 320a-c
Capacities: 8-15
TDAI's software, hardware and visualization labs are reservable for classes, workshops and project work. When not reserved, each lab can accommodate multiple users at one time. Technology specifications to be announced.
Project Zone | Room 350
Capacity: 49
Featuring flexible seating options and moveable whiteboards.
Media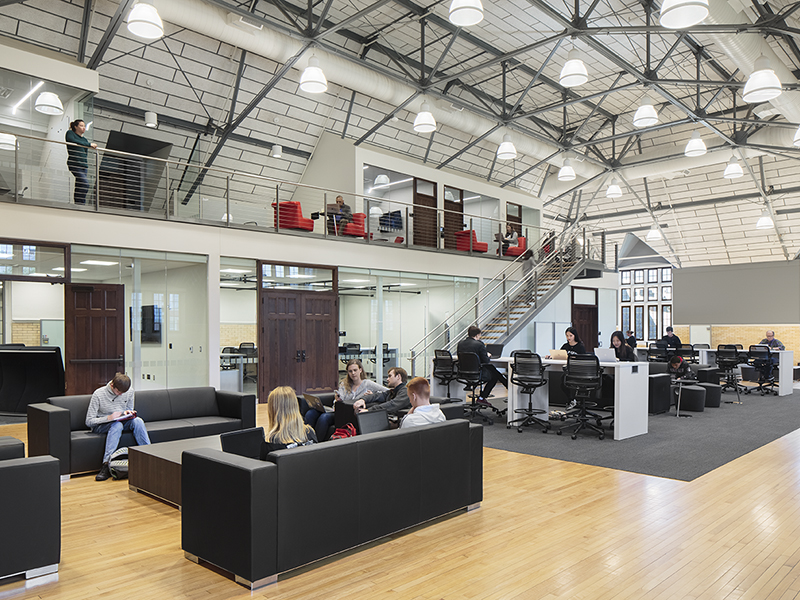 Text
Partner Zone | Room 301 (shown at right)
Capacity: 49 
Customizable space that organizations outside of Ohio State can rent to co-locate teams, interact with students and host events.
Conference Rooms | Rooms 300A, 186, 278 and 369
Capacities: 22 and 8
Featuring LCD displays, Skype calling and whiteboards. Minimum occupancy for reservations: 2.
Huddle Rooms | Rooms 278, 279, 350a-c, and 420c-d
Capacities: 2-6
Featuring LCD displays, Skype calling and whiteboards. Minimum occupancy for reservations: 1.
Media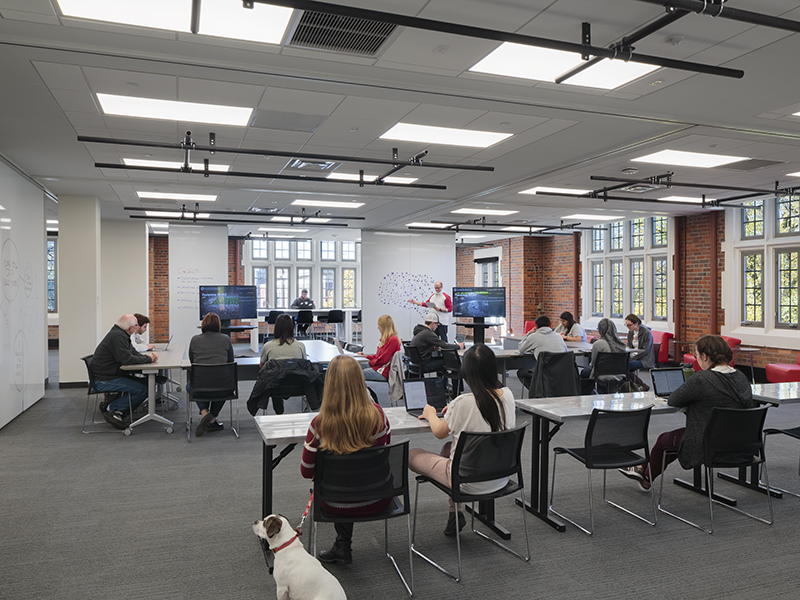 Text
Individual Spaces
Recharge Room | Room 400
Capacity: 15 (AUTUMN 2020: capacity 4-6)
A relaxed space for taking a break.
Support and Amenities
Shared Services in room 172 offers one-on-one tech consultations with staff from across campus to help faculty, students and partners find solutions for data science and analytics projects. Click here for hours.
Daily lockers are available in rooms 301, 320 and 350. Items not removed from lockers within 48 hours will be moved to lost and found in room 175. TDAI is not responsible for theft of or damage to items in lockers.
Refrigerators, microwaves and sinks are available in rooms 175 and 370. Refrigerator contents are discarded on the 1st and 3rd Monday of every month. Food and drinks with lids are permitted only in conference and huddle rooms and at bartop areas.
Assistance with reservations, lockers and general questions is available at the TDAI Reception Desk in room 300 from 8 a.m. to 5 p.m. Monday through Friday. TDAI staff in room 175 can also provide general assistance.