Image

A place of refinement: The history of Pomerene Hall
Advanced
Text
The first women's building
The year is 1917. Coca Cola was a brand new choice of beverage. Only 8 percent of U.S. homes had a telephone. And women students at The Ohio State University had one small room in University Hall to study, as it was considered inappropriate and distracting for a woman to study next to a man. Nicknamed the "Gab Room," this small room was also the place for women students to socialize and hold events they could attend—for an annual fee of 25 cents. As the women's population at Ohio State grew, the Women's Council appealed to the university legislature for a women's building. In 1922, the first half of Pomerene Hall opened at 1760 Neil Ave. with a gymnasium, education classes and social rooms. A natatorium, lounges, a kitchen and a refectory were completed in 1927. Inspired by Jacobethan Revival style, Pomerene Hall was founded to provide a crucial space for people who faced marginalization elsewhere. In the years since its addition to campus, their stories have flourished in Pomerene.  
Many students have expressed how Pomerene gave them a feeling of a place on campus which was theirs and made them feel the university cared or it would not have created for them a place of rest…quiet…refinement.

–OSU Centennial '68
Media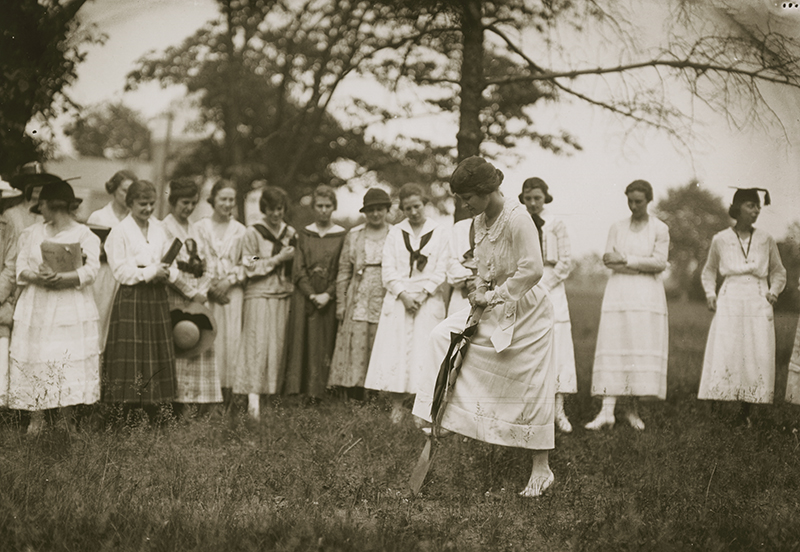 Text
A legacy of health and wellness
From the beginning, Pomerene Hall was a place to promote health and wellness for female students. It provided a space that encouraged women's athletics, prior to a time when it was mandated by Title IX.  
I can still remember the gymnastics class where we used large metal rings and long ribbons on a stick to leap around the floor while a piano player was providing appropriate music. A little strange in today's world. The first floor of Pomerene had the most comfortable old wingback chairs and it was wonderful to curl up with a book and relax! The cafeteria in the basement had coffee for 5 cents! What wonderful memories!!

–Linda Pickering, '62
Long before there were intercollegiate athletics for women, I taught basketball to women's physical education majors in the gym in Pomerene. In addition to the games between students, we always had a student-faculty game. The friendships that developed between students, faculty and staff lasted all our lives.

–Catherine Marting Bremner, PhD '50
Media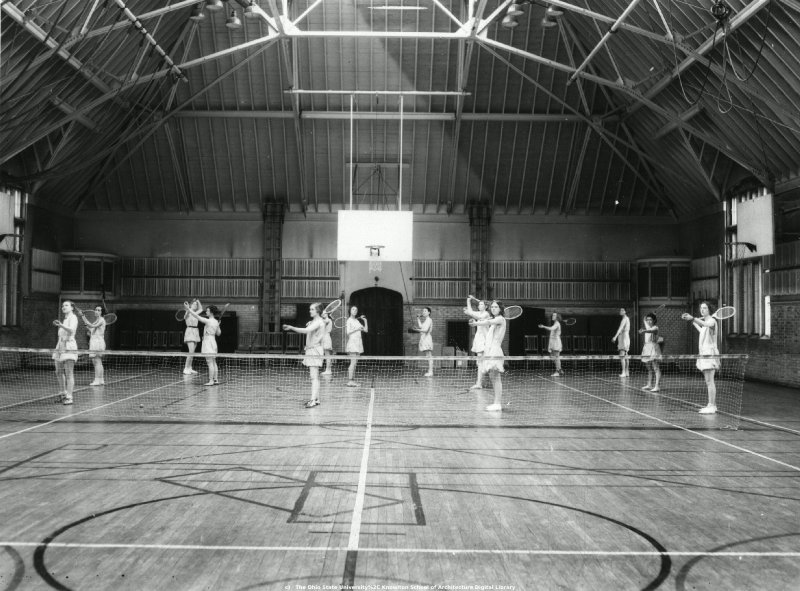 Text
The School of Physical Activity and Educational Services moved out of Pomerene Hall in 2007, but the experiences they provided for students remain in the memories of women alumni.  
Autumn 1970, if you were female and wanted to go swim, you went to the Pomerene Hall pool. They had blue wool one piece swimming suits you had to wear. The suits were so tight you had to squeeze into them, but as soon as you got into the water, they expanded and almost fell off.

–B G Scranton BFA '75, M Ed '88
Media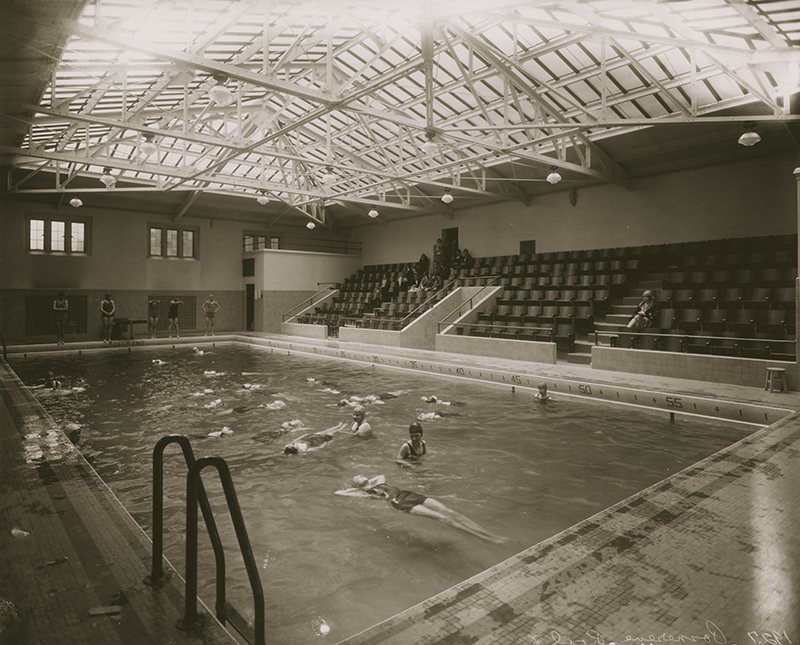 Text
Feeding young minds and the campus community
Nearly synonymous with Pomerene Hall has been the eating establishment on the building's ground floor, which has had a number of names over the years. Whether it was called Mirror Lake Creamery or the Rathskeller, Mirror Lake Eatery or The Refectory, one thing remained certain about Pomerene's restaurant: It was a lively gathering place for people to make memories.  
My friends and I walked to Mirror Lake at least three times a week from the North Campus dorms and we would stay for a couple hours talking and eating. It was a great way to build community with a group of people I'm still friends with to this day.

–Anonymous
Originally called The Refectory, the food services at Pomerene Hall served as a laboratory for students in the Institutional Management Division of the School of Home Economics.  Students would experiment with new types of cooking that the rest of Ohio State's students could try.  Students who weren't studying Home Economics could also work there.  
I got a job bussing dishes in the Pomerene Hall dining room. It had several "perks," helping with expenses, meals, etc. But the best was that many of the female nursing students (from Mack Hall, I think) dined there, and as fate would have it, one caught my eye. So Pomerene is where I met my wife and where we started our 55-year journey.

–Alfred C. Long, DDS '48
True to its origins as an open place for marginalized people, Pomerene Hall's eating facilities welcomed African American students at a time when racial discrimination was widespread. A 1939 member of Ohio State's Mortar Board recalled that she "had black friends in college, and the only place they could eat was Pomerene since none of the restaurants on High Street would serve them."
Media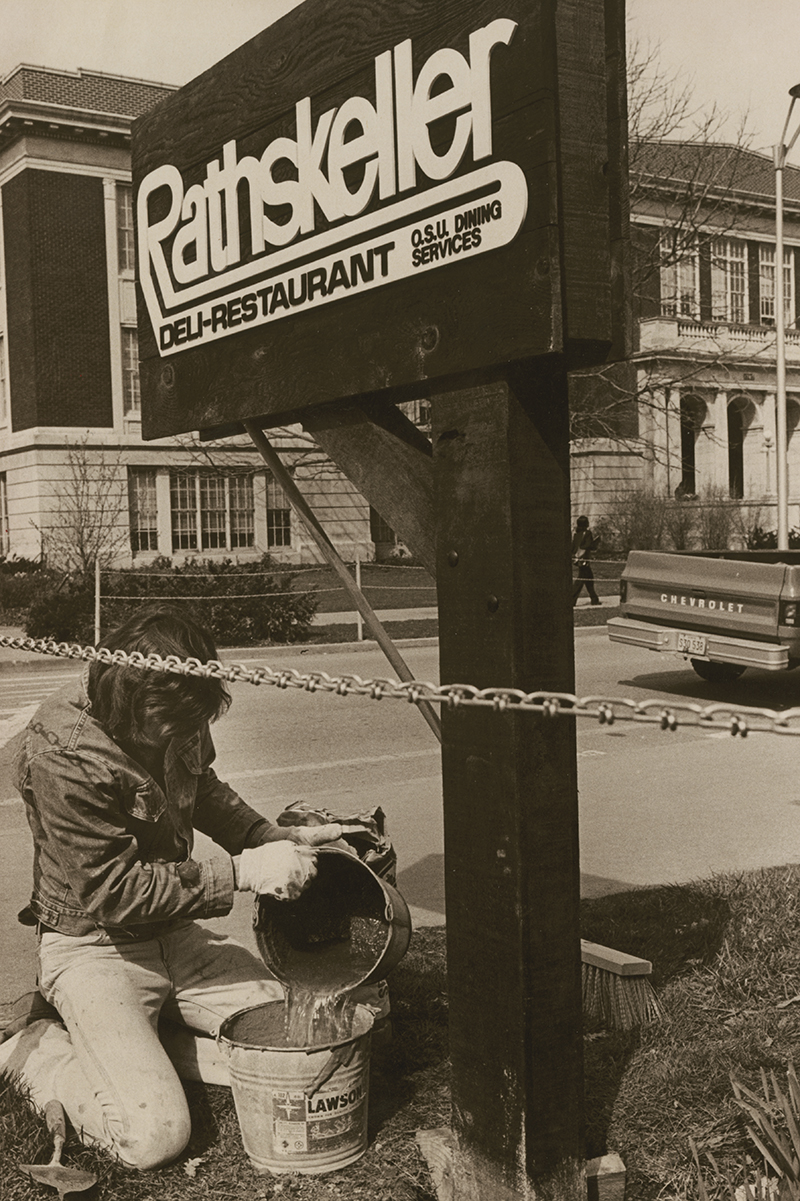 Text
A grand ballroom for grand stories
For many years, Ohio State's Department of Dance occupied Pomerene Hall, and the second-floor ballroom, with its wood-paneled walls and ornate plaster ceiling, was home to dance classes and organizations as well as school dances.  
Pomerene 213 was the place where the Argentine Tango student groups (ATCO and TangoOSU) of OSU met to practice and party on Saturday and Wednesday nights during the quarters and semesters, instructed by Yuval.

–Ohio State Professor Yuval Flicker
The same ballroom where people learned how to tango in the '90s also housed the Engineers' Prom of 1942. At that event, mechanical, electrical and civil engineers and their dates dined and danced the night away while faculty and chaperones watched from the edges of the dance floor and from a hidden door. Many years later, the historic ballroom was featured in the 1984 film "The Jesse Owens Story." A variety of scenes were filmed there, including Jesse Owens playing the piano and a boardroom discussion.
Text
Creating life-long memories
Pomerene Hall was created to give women students at Ohio State a physical place on campus. Throughout its nearly 100-year history, its purpose may have changed, but its effect on students has not. Pomerene Hall has served as the back drop for many students' life-long memories.  
Arriving at that great spot each morning by 6 a.m., I relished those quiet two hours before class, studying, chatting with students and professors, eating my breakfast and drinking a few cups of coffee in the lovely Pomerene Hall. It was a great way to [begin] my day and will always hold a treasured spot on campus.

–Kay Helman, '70, '72
Media