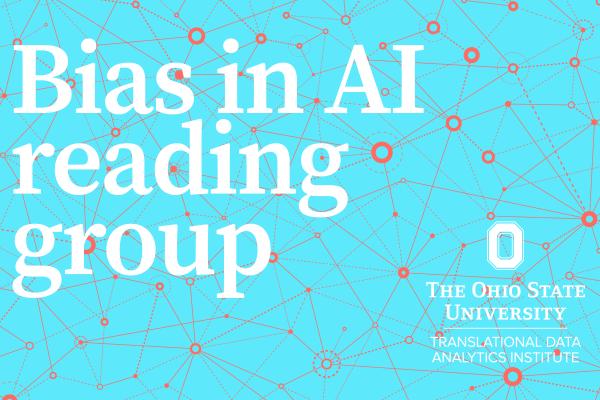 December 1, 2023
3:00PM - 4:00PM
Add to Calendar
2023-12-01 15:00:00
2023-12-01 16:00:00
Bias in AI Reading Group
TDAI hosts monthly informal gatherings to discuss publications addressing racial and gender bias in algorithms and automated decision-making technologies. For 2023-24, the group is led by Dr. Harmony Bench (Dance). The free-ranging conversations explore societal ramifications and implications for researchers, educators and students.  December reading:  AI in the Wild: Sustainability in the Age of Artificial Intelligence by Peter Dauvergnehttps://direct.mit.edu/books/book/4942/AI-in-the-WildSustainability-in-the-Age-of With participants reading chapters according to their interest. All OSU faculty, staff, and students are welcome. More information
300A Pomerene Hall
OSU ASC Drupal 8
ascwebservices@osu.edu
America/New_York
public
Date Range
Add to Calendar
2023-12-01 15:00:00
2023-12-01 16:00:00
Bias in AI Reading Group
TDAI hosts monthly informal gatherings to discuss publications addressing racial and gender bias in algorithms and automated decision-making technologies. For 2023-24, the group is led by Dr. Harmony Bench (Dance). The free-ranging conversations explore societal ramifications and implications for researchers, educators and students.  December reading:  AI in the Wild: Sustainability in the Age of Artificial Intelligence by Peter Dauvergne https://direct.mit.edu/books/book/4942/AI-in-the-WildSustainability-in-the-Age-of With participants reading chapters according to their interest. All OSU faculty, staff, and students are welcome. More information
300A Pomerene Hall
Translational Data Analytics Institute
tdai@osu.edu
America/New_York
public
TDAI hosts monthly informal gatherings to discuss publications addressing racial and gender bias in algorithms and automated decision-making technologies. For 2023-24, the group is led by Dr. Harmony Bench (Dance). The free-ranging conversations explore societal ramifications and implications for researchers, educators and students. 
December reading: 
AI in the Wild: Sustainability in the Age of Artificial Intelligence by Peter Dauvergne
https://direct.mit.edu/books/book/4942/AI-in-the-WildSustainability-in-the-Age-of
With participants reading chapters according to their interest.
All OSU faculty, staff, and students are welcome. More information
Events Filters:
---