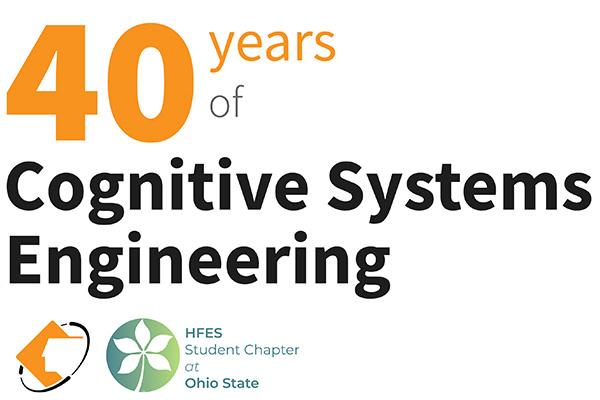 September 27, 2023
4:00PM - 8:00PM
Add to Calendar
2023-09-27 16:00:00
2023-09-27 20:00:00
Cognitive systems engineering panel discussions
Cognitive Systems Engineering aims to integrate humans and technology in complex work systems, and the Cognitive Systems Engineering Laboratory, led by TDAI core faculty Dr. Mike Rayo, and Human Factors & Ergonomics Society Student Chapter at Ohio State are hosting a series of panels featuring of major contributors to the field to celebrate 40 years since the first publication of the term "Cognitive Systems Engineering" by Ohio State's very own Dr. David Woods. Special guests Dr. John Flach and Dr. Matthew Bolton will join Dr. Shannon Morrison, Dr. Emily Patterson, and ISE Faculty to share their perspective on (1) how we can use automation as teammates to support system resilience & decision-making, (2) the implications of AI from a systems perspective, and (3) future careers in human factors/technology/and engineering, and how we can overcome diversity stagnation within the fields. Panel 1: Teaming with Automation: Supporting Resilience & Decision-Making (Dr. John Flach, Dr. Martijn IJtsma, Dr. Emily Patterson, Dr. Phil Smith) Panel 2: Artificial Intelligence: Smart, or Stupid? (Dr. Matthew Bolton, Dr. Samantha Krening, Dr. Mike Rayo, Dr. David Woods) Panel 3: Careers and DEI in CSE/HF: Current State and Looking Forward (Asher Balkin, Dr. Shannon Morrison, Dr. Michael Rayo, Dr. Carolyn Sommerich) Reception and Dinner will begin after panel 3; the first 50 registrants are guaranteed a free meal voucher.  Event Website: https://u.osu.edu/40yrscse/ Click to register     
Ohio State Faculty Club
OSU ASC Drupal 8
ascwebservices@osu.edu
America/New_York
public
Date Range
Add to Calendar
2023-09-27 16:00:00
2023-09-27 20:00:00
Cognitive systems engineering panel discussions
Cognitive Systems Engineering aims to integrate humans and technology in complex work systems, and the Cognitive Systems Engineering Laboratory, led by TDAI core faculty Dr. Mike Rayo, and Human Factors & Ergonomics Society Student Chapter at Ohio State are hosting a series of panels featuring of major contributors to the field to celebrate 40 years since the first publication of the term "Cognitive Systems Engineering" by Ohio State's very own Dr. David Woods. Special guests Dr. John Flach and Dr. Matthew Bolton will join Dr. Shannon Morrison, Dr. Emily Patterson, and ISE Faculty to share their perspective on (1) how we can use automation as teammates to support system resilience & decision-making, (2) the implications of AI from a systems perspective, and (3) future careers in human factors/technology/and engineering, and how we can overcome diversity stagnation within the fields. Panel 1: Teaming with Automation: Supporting Resilience & Decision-Making (Dr. John Flach, Dr. Martijn IJtsma, Dr. Emily Patterson, Dr. Phil Smith) Panel 2: Artificial Intelligence: Smart, or Stupid? (Dr. Matthew Bolton, Dr. Samantha Krening, Dr. Mike Rayo, Dr. David Woods) Panel 3: Careers and DEI in CSE/HF: Current State and Looking Forward (Asher Balkin, Dr. Shannon Morrison, Dr. Michael Rayo, Dr. Carolyn Sommerich) Reception and Dinner will begin after panel 3; the first 50 registrants are guaranteed a free meal voucher.  Event Website: https://u.osu.edu/40yrscse/ Click to register     
Ohio State Faculty Club
Translational Data Analytics Institute
tdai@osu.edu
America/New_York
public
Cognitive Systems Engineering aims to integrate humans and technology in complex work systems, and the Cognitive Systems Engineering Laboratory, led by TDAI core faculty Dr. Mike Rayo, and Human Factors & Ergonomics Society Student Chapter at Ohio State are hosting a series of panels featuring of major contributors to the field to celebrate 40 years since the first publication of the term "Cognitive Systems Engineering" by Ohio State's very own Dr. David Woods.
Special guests Dr. John Flach and Dr. Matthew Bolton will join Dr. Shannon Morrison, Dr. Emily Patterson, and ISE Faculty to share their perspective on (1) how we can use automation as teammates to support system resilience & decision-making, (2) the implications of AI from a systems perspective, and (3) future careers in human factors/technology/and engineering, and how we can overcome diversity stagnation within the fields.
Panel 1: Teaming with Automation: Supporting Resilience & Decision-Making (Dr. John Flach, Dr. Martijn IJtsma, Dr. Emily Patterson, Dr. Phil Smith)
Panel 2: Artificial Intelligence: Smart, or Stupid? (Dr. Matthew Bolton, Dr. Samantha Krening, Dr. Mike Rayo, Dr. David Woods)
Panel 3: Careers and DEI in CSE/HF: Current State and Looking Forward (Asher Balkin, Dr. Shannon Morrison, Dr. Michael Rayo, Dr. Carolyn Sommerich)
Reception and Dinner will begin after panel 3; the first 50 registrants are guaranteed a free meal voucher. 
Event Website: https://u.osu.edu/40yrscse/
---