Image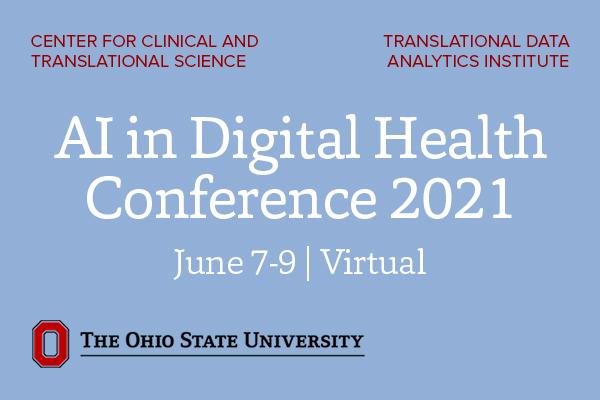 June 7, 2021
8:00AM - 12:30PM
Date Range
Add to Calendar
2021-06-07 08:00:00
2021-06-07 12:30:00
AI in Digital Health Conference 2021
The AI in Digital Health Conference 2021 will be an online event through Zoom. It will offer a unique opportunity for engaging experienced grant reviewers who will provide insights into how to write competitive grants and avoid common pitfalls using AI in Digital Health. It is also a platform for networking, resource sharing, and training and education development. This conference is organized and hosted by the Center for Clinical and Translational Science and Translational Data Analytics Institute at The Ohio State University. It is also jointly sponsored by Washington University at Saint Louis, Indiana University, Northwestern University, University of Cincinnati, and Wake Forest University. If you have questions, please feel free to contact the conference program committee chair: Lang Li, Professor and Chair, Department of Biomedical Informatics, College of Medicine, The Ohio State University, Lang.Li@osumc.edu. Register here June 7 Introduction (Rebecca Jackson and Lang Li, 8:00-8:10) Session 1: AI resources (moderator: Andrew Young, 8:10 – 9:45) Tim Huerta (OSU)                                 8:10 – 8:35 Kun Huang (IU)                                     8:35 – 9:00 Yuan Luo (NW)                                      9:00 – 9:25 Panel discussion                                   9:25 – 9:45 Break                                                     9:45 – 10:00 Session 2: NIH study reviewer point of view (moderator: Simon Lin, 10:00 – 12:30) Philip Payne (Wash U)                          10:00 – 10:20 Lang Li (OSU)                                       10:20 – 10:40 Judith Dexheimer (CCHMC)                10:40 – 11:00 Panel discussion                                   11:00 – 12:30   June 8 Session 3: AI in drug repurposing (moderator: Xia Ning, 8:00 – 9:50) Stephanie Huang (UMN)                       8:00 – 8:30 Bridging Pre-Clinical Drug Screening with Patient Molecular Profiles for Biomarker Discovery & Drug Development Fuhai Li (Wash U)                                   8:30 – 9:00 Interpretable network AI models for drug combination prediction Feixiong Cheng (Cleveland Clinics)     9:00 – 9:30 Harnessing Network Medicine and Electronic Health Records for Drug Repurposing in COVID-19 Panel discussion                                    9:30 – 9:50 Break                                                       9:50 – 10:10 Session 4: AI in biomedical imaging (moderator: Ping Zhang/Kun Huang, 10:10 – 12:30) Lee Cooper (Northwestern)                10:10 – 10:40 Computational Pathology Le Lu (PAII Inc.)                                     10:40 -  11:10 Effective and Reproducible Precision Imaging Biomarkers for Pancreatic Cancer Screening, Diagnosis and Prognosis Tanveer F Syeda-mahmood (IBM)       11:10 – 11:40 Chest X-Ray Report Generation Through Fine-Grained Label Learning Lei Xing (Stanford)                                 11:40 – 12:10 Medical Imaging in the Age of Artificial Intelligence Panel discussion                                   12:10 – 12:30   June 9 Session 5: AI in genomics (moderator: Lijun Cheng, 8:00 – 10:20) Qin Ma (OSU)                                       8:00 – 8:30, Deep learning methods for cis-regulatory motif identification and gene regulatory mechanism elucidation. Dong Xu (Missouri),                             8:30 – 9:00,  A General Graph Neural Network Framework for Single-Cell Sequencing Data Analyses Bar-Joseph Ziv (CMU)                         9:00 – 9:30, Modeling dynamics to predict treatment Chi-Zhang (IU)                                      9:00 – 10:00, A graph neural network model to estimate cell-wise metabolic flux using single-cell RNA-seq data Panel discussion                                 10:00 – 10:20 Break                                                    10:20 – 10:30 Session 6: AI in health training and education (moderator: Judith Dexheimer, 10:30 – 12:30) Susan H. Fenton (UT)                           10:30 – 10:55 Courtney Hebert (OSU)                       10:55 – 11:20  Kristi Holmes (NW)                              11:20 – 11:45 Titus Schleyer (IU)                                 11:45 – 12:10 Panel discussion                                   12:10 – 12:30
Zoom
OSU ASC Drupal 8
ascwebservices@osu.edu
America/New_York
public
Add to Calendar
2021-06-08 08:00:00
2021-06-08 12:30:00
AI in Digital Health Conference 2021
The AI in Digital Health Conference 2021 will be an online event through Zoom. It will offer a unique opportunity for engaging experienced grant reviewers who will provide insights into how to write competitive grants and avoid common pitfalls using AI in Digital Health. It is also a platform for networking, resource sharing, and training and education development. This conference is organized and hosted by the Center for Clinical and Translational Science and Translational Data Analytics Institute at The Ohio State University. It is also jointly sponsored by Washington University at Saint Louis, Indiana University, Northwestern University, University of Cincinnati, and Wake Forest University. If you have questions, please feel free to contact the conference program committee chair: Lang Li, Professor and Chair, Department of Biomedical Informatics, College of Medicine, The Ohio State University, Lang.Li@osumc.edu. Register here June 7 Introduction (Rebecca Jackson and Lang Li, 8:00-8:10) Session 1: AI resources (moderator: Andrew Young, 8:10 – 9:45) Tim Huerta (OSU)                                 8:10 – 8:35 Kun Huang (IU)                                     8:35 – 9:00 Yuan Luo (NW)                                      9:00 – 9:25 Panel discussion                                   9:25 – 9:45 Break                                                     9:45 – 10:00 Session 2: NIH study reviewer point of view (moderator: Simon Lin, 10:00 – 12:30) Philip Payne (Wash U)                          10:00 – 10:20 Lang Li (OSU)                                       10:20 – 10:40 Judith Dexheimer (CCHMC)                10:40 – 11:00 Panel discussion                                   11:00 – 12:30   June 8 Session 3: AI in drug repurposing (moderator: Xia Ning, 8:00 – 9:50) Stephanie Huang (UMN)                       8:00 – 8:30 Bridging Pre-Clinical Drug Screening with Patient Molecular Profiles for Biomarker Discovery & Drug Development Fuhai Li (Wash U)                                   8:30 – 9:00 Interpretable network AI models for drug combination prediction Feixiong Cheng (Cleveland Clinics)     9:00 – 9:30 Harnessing Network Medicine and Electronic Health Records for Drug Repurposing in COVID-19 Panel discussion                                    9:30 – 9:50 Break                                                       9:50 – 10:10 Session 4: AI in biomedical imaging (moderator: Ping Zhang/Kun Huang, 10:10 – 12:30) Lee Cooper (Northwestern)                10:10 – 10:40 Computational Pathology Le Lu (PAII Inc.)                                     10:40 -  11:10 Effective and Reproducible Precision Imaging Biomarkers for Pancreatic Cancer Screening, Diagnosis and Prognosis Tanveer F Syeda-mahmood (IBM)       11:10 – 11:40 Chest X-Ray Report Generation Through Fine-Grained Label Learning Lei Xing (Stanford)                                 11:40 – 12:10 Medical Imaging in the Age of Artificial Intelligence Panel discussion                                   12:10 – 12:30   June 9 Session 5: AI in genomics (moderator: Lijun Cheng, 8:00 – 10:20) Qin Ma (OSU)                                       8:00 – 8:30, Deep learning methods for cis-regulatory motif identification and gene regulatory mechanism elucidation. Dong Xu (Missouri),                             8:30 – 9:00,  A General Graph Neural Network Framework for Single-Cell Sequencing Data Analyses Bar-Joseph Ziv (CMU)                         9:00 – 9:30, Modeling dynamics to predict treatment Chi-Zhang (IU)                                      9:00 – 10:00, A graph neural network model to estimate cell-wise metabolic flux using single-cell RNA-seq data Panel discussion                                 10:00 – 10:20 Break                                                    10:20 – 10:30 Session 6: AI in health training and education (moderator: Judith Dexheimer, 10:30 – 12:30) Susan H. Fenton (UT)                           10:30 – 10:55 Courtney Hebert (OSU)                       10:55 – 11:20  Kristi Holmes (NW)                              11:20 – 11:45 Titus Schleyer (IU)                                 11:45 – 12:10 Panel discussion                                   12:10 – 12:30
Zoom
OSU ASC Drupal 8
ascwebservices@osu.edu
America/New_York
public
Add to Calendar
2021-06-09 08:00:00
2021-06-09 12:30:00
AI in Digital Health Conference 2021
The AI in Digital Health Conference 2021 will be an online event through Zoom. It will offer a unique opportunity for engaging experienced grant reviewers who will provide insights into how to write competitive grants and avoid common pitfalls using AI in Digital Health. It is also a platform for networking, resource sharing, and training and education development. This conference is organized and hosted by the Center for Clinical and Translational Science and Translational Data Analytics Institute at The Ohio State University. It is also jointly sponsored by Washington University at Saint Louis, Indiana University, Northwestern University, University of Cincinnati, and Wake Forest University. If you have questions, please feel free to contact the conference program committee chair: Lang Li, Professor and Chair, Department of Biomedical Informatics, College of Medicine, The Ohio State University, Lang.Li@osumc.edu. Register here June 7 Introduction (Rebecca Jackson and Lang Li, 8:00-8:10) Session 1: AI resources (moderator: Andrew Young, 8:10 – 9:45) Tim Huerta (OSU)                                 8:10 – 8:35 Kun Huang (IU)                                     8:35 – 9:00 Yuan Luo (NW)                                      9:00 – 9:25 Panel discussion                                   9:25 – 9:45 Break                                                     9:45 – 10:00 Session 2: NIH study reviewer point of view (moderator: Simon Lin, 10:00 – 12:30) Philip Payne (Wash U)                          10:00 – 10:20 Lang Li (OSU)                                       10:20 – 10:40 Judith Dexheimer (CCHMC)                10:40 – 11:00 Panel discussion                                   11:00 – 12:30   June 8 Session 3: AI in drug repurposing (moderator: Xia Ning, 8:00 – 9:50) Stephanie Huang (UMN)                       8:00 – 8:30 Bridging Pre-Clinical Drug Screening with Patient Molecular Profiles for Biomarker Discovery & Drug Development Fuhai Li (Wash U)                                   8:30 – 9:00 Interpretable network AI models for drug combination prediction Feixiong Cheng (Cleveland Clinics)     9:00 – 9:30 Harnessing Network Medicine and Electronic Health Records for Drug Repurposing in COVID-19 Panel discussion                                    9:30 – 9:50 Break                                                       9:50 – 10:10 Session 4: AI in biomedical imaging (moderator: Ping Zhang/Kun Huang, 10:10 – 12:30) Lee Cooper (Northwestern)                10:10 – 10:40 Computational Pathology Le Lu (PAII Inc.)                                     10:40 -  11:10 Effective and Reproducible Precision Imaging Biomarkers for Pancreatic Cancer Screening, Diagnosis and Prognosis Tanveer F Syeda-mahmood (IBM)       11:10 – 11:40 Chest X-Ray Report Generation Through Fine-Grained Label Learning Lei Xing (Stanford)                                 11:40 – 12:10 Medical Imaging in the Age of Artificial Intelligence Panel discussion                                   12:10 – 12:30   June 9 Session 5: AI in genomics (moderator: Lijun Cheng, 8:00 – 10:20) Qin Ma (OSU)                                       8:00 – 8:30, Deep learning methods for cis-regulatory motif identification and gene regulatory mechanism elucidation. Dong Xu (Missouri),                             8:30 – 9:00,  A General Graph Neural Network Framework for Single-Cell Sequencing Data Analyses Bar-Joseph Ziv (CMU)                         9:00 – 9:30, Modeling dynamics to predict treatment Chi-Zhang (IU)                                      9:00 – 10:00, A graph neural network model to estimate cell-wise metabolic flux using single-cell RNA-seq data Panel discussion                                 10:00 – 10:20 Break                                                    10:20 – 10:30 Session 6: AI in health training and education (moderator: Judith Dexheimer, 10:30 – 12:30) Susan H. Fenton (UT)                           10:30 – 10:55 Courtney Hebert (OSU)                       10:55 – 11:20  Kristi Holmes (NW)                              11:20 – 11:45 Titus Schleyer (IU)                                 11:45 – 12:10 Panel discussion                                   12:10 – 12:30
Zoom
OSU ASC Drupal 8
ascwebservices@osu.edu
America/New_York
public
Date Range
Add to Calendar
2021-06-07 08:00:00
2021-06-07 12:30:00
AI in Digital Health Conference 2021
The AI in Digital Health Conference 2021 will be an online event through Zoom. It will offer a unique opportunity for engaging experienced grant reviewers who will provide insights into how to write competitive grants and avoid common pitfalls using AI in Digital Health. It is also a platform for networking, resource sharing, and training and education development. This conference is organized and hosted by the Center for Clinical and Translational Science and Translational Data Analytics Institute at The Ohio State University. It is also jointly sponsored by Washington University at Saint Louis, Indiana University, Northwestern University, University of Cincinnati, and Wake Forest University. If you have questions, please feel free to contact the conference program committee chair: Lang Li, Professor and Chair, Department of Biomedical Informatics, College of Medicine, The Ohio State University, Lang.Li@osumc.edu. Register here June 7 Introduction (Rebecca Jackson and Lang Li, 8:00-8:10) Session 1: AI resources (moderator: Andrew Young, 8:10 – 9:45) Tim Huerta (OSU)                                 8:10 – 8:35 Kun Huang (IU)                                     8:35 – 9:00 Yuan Luo (NW)                                      9:00 – 9:25 Panel discussion                                   9:25 – 9:45 Break                                                     9:45 – 10:00 Session 2: NIH study reviewer point of view (moderator: Simon Lin, 10:00 – 12:30) Philip Payne (Wash U)                          10:00 – 10:20 Lang Li (OSU)                                       10:20 – 10:40 Judith Dexheimer (CCHMC)                10:40 – 11:00 Panel discussion                                   11:00 – 12:30   June 8 Session 3: AI in drug repurposing (moderator: Xia Ning, 8:00 – 9:50) Stephanie Huang (UMN)                       8:00 – 8:30 Bridging Pre-Clinical Drug Screening with Patient Molecular Profiles for Biomarker Discovery & Drug Development Fuhai Li (Wash U)                                   8:30 – 9:00 Interpretable network AI models for drug combination prediction Feixiong Cheng (Cleveland Clinics)     9:00 – 9:30 Harnessing Network Medicine and Electronic Health Records for Drug Repurposing in COVID-19 Panel discussion                                    9:30 – 9:50 Break                                                       9:50 – 10:10 Session 4: AI in biomedical imaging (moderator: Ping Zhang/Kun Huang, 10:10 – 12:30) Lee Cooper (Northwestern)                10:10 – 10:40 Computational Pathology Le Lu (PAII Inc.)                                     10:40 -  11:10 Effective and Reproducible Precision Imaging Biomarkers for Pancreatic Cancer Screening, Diagnosis and Prognosis Tanveer F Syeda-mahmood (IBM)       11:10 – 11:40 Chest X-Ray Report Generation Through Fine-Grained Label Learning Lei Xing (Stanford)                                 11:40 – 12:10 Medical Imaging in the Age of Artificial Intelligence Panel discussion                                   12:10 – 12:30   June 9 Session 5: AI in genomics (moderator: Lijun Cheng, 8:00 – 10:20) Qin Ma (OSU)                                       8:00 – 8:30, Deep learning methods for cis-regulatory motif identification and gene regulatory mechanism elucidation. Dong Xu (Missouri),                             8:30 – 9:00,  A General Graph Neural Network Framework for Single-Cell Sequencing Data Analyses Bar-Joseph Ziv (CMU)                         9:00 – 9:30, Modeling dynamics to predict treatment Chi-Zhang (IU)                                      9:00 – 10:00, A graph neural network model to estimate cell-wise metabolic flux using single-cell RNA-seq data Panel discussion                                 10:00 – 10:20 Break                                                    10:20 – 10:30 Session 6: AI in health training and education (moderator: Judith Dexheimer, 10:30 – 12:30) Susan H. Fenton (UT)                           10:30 – 10:55 Courtney Hebert (OSU)                       10:55 – 11:20  Kristi Holmes (NW)                              11:20 – 11:45 Titus Schleyer (IU)                                 11:45 – 12:10 Panel discussion                                   12:10 – 12:30
Zoom
Translational Data Analytics Institute
tdai@osu.edu
America/New_York
public
June 8, 2021
8:00AM - 12:30PM
Date Range
Add to Calendar
2021-06-07 08:00:00
2021-06-07 12:30:00
AI in Digital Health Conference 2021
The AI in Digital Health Conference 2021 will be an online event through Zoom. It will offer a unique opportunity for engaging experienced grant reviewers who will provide insights into how to write competitive grants and avoid common pitfalls using AI in Digital Health. It is also a platform for networking, resource sharing, and training and education development. This conference is organized and hosted by the Center for Clinical and Translational Science and Translational Data Analytics Institute at The Ohio State University. It is also jointly sponsored by Washington University at Saint Louis, Indiana University, Northwestern University, University of Cincinnati, and Wake Forest University. If you have questions, please feel free to contact the conference program committee chair: Lang Li, Professor and Chair, Department of Biomedical Informatics, College of Medicine, The Ohio State University, Lang.Li@osumc.edu. Register here June 7 Introduction (Rebecca Jackson and Lang Li, 8:00-8:10) Session 1: AI resources (moderator: Andrew Young, 8:10 – 9:45) Tim Huerta (OSU)                                 8:10 – 8:35 Kun Huang (IU)                                     8:35 – 9:00 Yuan Luo (NW)                                      9:00 – 9:25 Panel discussion                                   9:25 – 9:45 Break                                                     9:45 – 10:00 Session 2: NIH study reviewer point of view (moderator: Simon Lin, 10:00 – 12:30) Philip Payne (Wash U)                          10:00 – 10:20 Lang Li (OSU)                                       10:20 – 10:40 Judith Dexheimer (CCHMC)                10:40 – 11:00 Panel discussion                                   11:00 – 12:30   June 8 Session 3: AI in drug repurposing (moderator: Xia Ning, 8:00 – 9:50) Stephanie Huang (UMN)                       8:00 – 8:30 Bridging Pre-Clinical Drug Screening with Patient Molecular Profiles for Biomarker Discovery & Drug Development Fuhai Li (Wash U)                                   8:30 – 9:00 Interpretable network AI models for drug combination prediction Feixiong Cheng (Cleveland Clinics)     9:00 – 9:30 Harnessing Network Medicine and Electronic Health Records for Drug Repurposing in COVID-19 Panel discussion                                    9:30 – 9:50 Break                                                       9:50 – 10:10 Session 4: AI in biomedical imaging (moderator: Ping Zhang/Kun Huang, 10:10 – 12:30) Lee Cooper (Northwestern)                10:10 – 10:40 Computational Pathology Le Lu (PAII Inc.)                                     10:40 -  11:10 Effective and Reproducible Precision Imaging Biomarkers for Pancreatic Cancer Screening, Diagnosis and Prognosis Tanveer F Syeda-mahmood (IBM)       11:10 – 11:40 Chest X-Ray Report Generation Through Fine-Grained Label Learning Lei Xing (Stanford)                                 11:40 – 12:10 Medical Imaging in the Age of Artificial Intelligence Panel discussion                                   12:10 – 12:30   June 9 Session 5: AI in genomics (moderator: Lijun Cheng, 8:00 – 10:20) Qin Ma (OSU)                                       8:00 – 8:30, Deep learning methods for cis-regulatory motif identification and gene regulatory mechanism elucidation. Dong Xu (Missouri),                             8:30 – 9:00,  A General Graph Neural Network Framework for Single-Cell Sequencing Data Analyses Bar-Joseph Ziv (CMU)                         9:00 – 9:30, Modeling dynamics to predict treatment Chi-Zhang (IU)                                      9:00 – 10:00, A graph neural network model to estimate cell-wise metabolic flux using single-cell RNA-seq data Panel discussion                                 10:00 – 10:20 Break                                                    10:20 – 10:30 Session 6: AI in health training and education (moderator: Judith Dexheimer, 10:30 – 12:30) Susan H. Fenton (UT)                           10:30 – 10:55 Courtney Hebert (OSU)                       10:55 – 11:20  Kristi Holmes (NW)                              11:20 – 11:45 Titus Schleyer (IU)                                 11:45 – 12:10 Panel discussion                                   12:10 – 12:30
Zoom
OSU ASC Drupal 8
ascwebservices@osu.edu
America/New_York
public
Add to Calendar
2021-06-08 08:00:00
2021-06-08 12:30:00
AI in Digital Health Conference 2021
The AI in Digital Health Conference 2021 will be an online event through Zoom. It will offer a unique opportunity for engaging experienced grant reviewers who will provide insights into how to write competitive grants and avoid common pitfalls using AI in Digital Health. It is also a platform for networking, resource sharing, and training and education development. This conference is organized and hosted by the Center for Clinical and Translational Science and Translational Data Analytics Institute at The Ohio State University. It is also jointly sponsored by Washington University at Saint Louis, Indiana University, Northwestern University, University of Cincinnati, and Wake Forest University. If you have questions, please feel free to contact the conference program committee chair: Lang Li, Professor and Chair, Department of Biomedical Informatics, College of Medicine, The Ohio State University, Lang.Li@osumc.edu. Register here June 7 Introduction (Rebecca Jackson and Lang Li, 8:00-8:10) Session 1: AI resources (moderator: Andrew Young, 8:10 – 9:45) Tim Huerta (OSU)                                 8:10 – 8:35 Kun Huang (IU)                                     8:35 – 9:00 Yuan Luo (NW)                                      9:00 – 9:25 Panel discussion                                   9:25 – 9:45 Break                                                     9:45 – 10:00 Session 2: NIH study reviewer point of view (moderator: Simon Lin, 10:00 – 12:30) Philip Payne (Wash U)                          10:00 – 10:20 Lang Li (OSU)                                       10:20 – 10:40 Judith Dexheimer (CCHMC)                10:40 – 11:00 Panel discussion                                   11:00 – 12:30   June 8 Session 3: AI in drug repurposing (moderator: Xia Ning, 8:00 – 9:50) Stephanie Huang (UMN)                       8:00 – 8:30 Bridging Pre-Clinical Drug Screening with Patient Molecular Profiles for Biomarker Discovery & Drug Development Fuhai Li (Wash U)                                   8:30 – 9:00 Interpretable network AI models for drug combination prediction Feixiong Cheng (Cleveland Clinics)     9:00 – 9:30 Harnessing Network Medicine and Electronic Health Records for Drug Repurposing in COVID-19 Panel discussion                                    9:30 – 9:50 Break                                                       9:50 – 10:10 Session 4: AI in biomedical imaging (moderator: Ping Zhang/Kun Huang, 10:10 – 12:30) Lee Cooper (Northwestern)                10:10 – 10:40 Computational Pathology Le Lu (PAII Inc.)                                     10:40 -  11:10 Effective and Reproducible Precision Imaging Biomarkers for Pancreatic Cancer Screening, Diagnosis and Prognosis Tanveer F Syeda-mahmood (IBM)       11:10 – 11:40 Chest X-Ray Report Generation Through Fine-Grained Label Learning Lei Xing (Stanford)                                 11:40 – 12:10 Medical Imaging in the Age of Artificial Intelligence Panel discussion                                   12:10 – 12:30   June 9 Session 5: AI in genomics (moderator: Lijun Cheng, 8:00 – 10:20) Qin Ma (OSU)                                       8:00 – 8:30, Deep learning methods for cis-regulatory motif identification and gene regulatory mechanism elucidation. Dong Xu (Missouri),                             8:30 – 9:00,  A General Graph Neural Network Framework for Single-Cell Sequencing Data Analyses Bar-Joseph Ziv (CMU)                         9:00 – 9:30, Modeling dynamics to predict treatment Chi-Zhang (IU)                                      9:00 – 10:00, A graph neural network model to estimate cell-wise metabolic flux using single-cell RNA-seq data Panel discussion                                 10:00 – 10:20 Break                                                    10:20 – 10:30 Session 6: AI in health training and education (moderator: Judith Dexheimer, 10:30 – 12:30) Susan H. Fenton (UT)                           10:30 – 10:55 Courtney Hebert (OSU)                       10:55 – 11:20  Kristi Holmes (NW)                              11:20 – 11:45 Titus Schleyer (IU)                                 11:45 – 12:10 Panel discussion                                   12:10 – 12:30
Zoom
OSU ASC Drupal 8
ascwebservices@osu.edu
America/New_York
public
Add to Calendar
2021-06-09 08:00:00
2021-06-09 12:30:00
AI in Digital Health Conference 2021
The AI in Digital Health Conference 2021 will be an online event through Zoom. It will offer a unique opportunity for engaging experienced grant reviewers who will provide insights into how to write competitive grants and avoid common pitfalls using AI in Digital Health. It is also a platform for networking, resource sharing, and training and education development. This conference is organized and hosted by the Center for Clinical and Translational Science and Translational Data Analytics Institute at The Ohio State University. It is also jointly sponsored by Washington University at Saint Louis, Indiana University, Northwestern University, University of Cincinnati, and Wake Forest University. If you have questions, please feel free to contact the conference program committee chair: Lang Li, Professor and Chair, Department of Biomedical Informatics, College of Medicine, The Ohio State University, Lang.Li@osumc.edu. Register here June 7 Introduction (Rebecca Jackson and Lang Li, 8:00-8:10) Session 1: AI resources (moderator: Andrew Young, 8:10 – 9:45) Tim Huerta (OSU)                                 8:10 – 8:35 Kun Huang (IU)                                     8:35 – 9:00 Yuan Luo (NW)                                      9:00 – 9:25 Panel discussion                                   9:25 – 9:45 Break                                                     9:45 – 10:00 Session 2: NIH study reviewer point of view (moderator: Simon Lin, 10:00 – 12:30) Philip Payne (Wash U)                          10:00 – 10:20 Lang Li (OSU)                                       10:20 – 10:40 Judith Dexheimer (CCHMC)                10:40 – 11:00 Panel discussion                                   11:00 – 12:30   June 8 Session 3: AI in drug repurposing (moderator: Xia Ning, 8:00 – 9:50) Stephanie Huang (UMN)                       8:00 – 8:30 Bridging Pre-Clinical Drug Screening with Patient Molecular Profiles for Biomarker Discovery & Drug Development Fuhai Li (Wash U)                                   8:30 – 9:00 Interpretable network AI models for drug combination prediction Feixiong Cheng (Cleveland Clinics)     9:00 – 9:30 Harnessing Network Medicine and Electronic Health Records for Drug Repurposing in COVID-19 Panel discussion                                    9:30 – 9:50 Break                                                       9:50 – 10:10 Session 4: AI in biomedical imaging (moderator: Ping Zhang/Kun Huang, 10:10 – 12:30) Lee Cooper (Northwestern)                10:10 – 10:40 Computational Pathology Le Lu (PAII Inc.)                                     10:40 -  11:10 Effective and Reproducible Precision Imaging Biomarkers for Pancreatic Cancer Screening, Diagnosis and Prognosis Tanveer F Syeda-mahmood (IBM)       11:10 – 11:40 Chest X-Ray Report Generation Through Fine-Grained Label Learning Lei Xing (Stanford)                                 11:40 – 12:10 Medical Imaging in the Age of Artificial Intelligence Panel discussion                                   12:10 – 12:30   June 9 Session 5: AI in genomics (moderator: Lijun Cheng, 8:00 – 10:20) Qin Ma (OSU)                                       8:00 – 8:30, Deep learning methods for cis-regulatory motif identification and gene regulatory mechanism elucidation. Dong Xu (Missouri),                             8:30 – 9:00,  A General Graph Neural Network Framework for Single-Cell Sequencing Data Analyses Bar-Joseph Ziv (CMU)                         9:00 – 9:30, Modeling dynamics to predict treatment Chi-Zhang (IU)                                      9:00 – 10:00, A graph neural network model to estimate cell-wise metabolic flux using single-cell RNA-seq data Panel discussion                                 10:00 – 10:20 Break                                                    10:20 – 10:30 Session 6: AI in health training and education (moderator: Judith Dexheimer, 10:30 – 12:30) Susan H. Fenton (UT)                           10:30 – 10:55 Courtney Hebert (OSU)                       10:55 – 11:20  Kristi Holmes (NW)                              11:20 – 11:45 Titus Schleyer (IU)                                 11:45 – 12:10 Panel discussion                                   12:10 – 12:30
Zoom
OSU ASC Drupal 8
ascwebservices@osu.edu
America/New_York
public
Date Range
Add to Calendar
2021-06-08 08:00:00
2021-06-08 12:30:00
AI in Digital Health Conference 2021
The AI in Digital Health Conference 2021 will be an online event through Zoom. It will offer a unique opportunity for engaging experienced grant reviewers who will provide insights into how to write competitive grants and avoid common pitfalls using AI in Digital Health. It is also a platform for networking, resource sharing, and training and education development. This conference is organized and hosted by the Center for Clinical and Translational Science and Translational Data Analytics Institute at The Ohio State University. It is also jointly sponsored by Washington University at Saint Louis, Indiana University, Northwestern University, University of Cincinnati, and Wake Forest University. If you have questions, please feel free to contact the conference program committee chair: Lang Li, Professor and Chair, Department of Biomedical Informatics, College of Medicine, The Ohio State University, Lang.Li@osumc.edu. Register here June 7 Introduction (Rebecca Jackson and Lang Li, 8:00-8:10) Session 1: AI resources (moderator: Andrew Young, 8:10 – 9:45) Tim Huerta (OSU)                                 8:10 – 8:35 Kun Huang (IU)                                     8:35 – 9:00 Yuan Luo (NW)                                      9:00 – 9:25 Panel discussion                                   9:25 – 9:45 Break                                                     9:45 – 10:00 Session 2: NIH study reviewer point of view (moderator: Simon Lin, 10:00 – 12:30) Philip Payne (Wash U)                          10:00 – 10:20 Lang Li (OSU)                                       10:20 – 10:40 Judith Dexheimer (CCHMC)                10:40 – 11:00 Panel discussion                                   11:00 – 12:30   June 8 Session 3: AI in drug repurposing (moderator: Xia Ning, 8:00 – 9:50) Stephanie Huang (UMN)                       8:00 – 8:30 Bridging Pre-Clinical Drug Screening with Patient Molecular Profiles for Biomarker Discovery & Drug Development Fuhai Li (Wash U)                                   8:30 – 9:00 Interpretable network AI models for drug combination prediction Feixiong Cheng (Cleveland Clinics)     9:00 – 9:30 Harnessing Network Medicine and Electronic Health Records for Drug Repurposing in COVID-19 Panel discussion                                    9:30 – 9:50 Break                                                       9:50 – 10:10 Session 4: AI in biomedical imaging (moderator: Ping Zhang/Kun Huang, 10:10 – 12:30) Lee Cooper (Northwestern)                10:10 – 10:40 Computational Pathology Le Lu (PAII Inc.)                                     10:40 -  11:10 Effective and Reproducible Precision Imaging Biomarkers for Pancreatic Cancer Screening, Diagnosis and Prognosis Tanveer F Syeda-mahmood (IBM)       11:10 – 11:40 Chest X-Ray Report Generation Through Fine-Grained Label Learning Lei Xing (Stanford)                                 11:40 – 12:10 Medical Imaging in the Age of Artificial Intelligence Panel discussion                                   12:10 – 12:30   June 9 Session 5: AI in genomics (moderator: Lijun Cheng, 8:00 – 10:20) Qin Ma (OSU)                                       8:00 – 8:30, Deep learning methods for cis-regulatory motif identification and gene regulatory mechanism elucidation. Dong Xu (Missouri),                             8:30 – 9:00,  A General Graph Neural Network Framework for Single-Cell Sequencing Data Analyses Bar-Joseph Ziv (CMU)                         9:00 – 9:30, Modeling dynamics to predict treatment Chi-Zhang (IU)                                      9:00 – 10:00, A graph neural network model to estimate cell-wise metabolic flux using single-cell RNA-seq data Panel discussion                                 10:00 – 10:20 Break                                                    10:20 – 10:30 Session 6: AI in health training and education (moderator: Judith Dexheimer, 10:30 – 12:30) Susan H. Fenton (UT)                           10:30 – 10:55 Courtney Hebert (OSU)                       10:55 – 11:20  Kristi Holmes (NW)                              11:20 – 11:45 Titus Schleyer (IU)                                 11:45 – 12:10 Panel discussion                                   12:10 – 12:30
Zoom
Translational Data Analytics Institute
tdai@osu.edu
America/New_York
public
June 9, 2021
8:00AM - 12:30PM
Date Range
Add to Calendar
2021-06-07 08:00:00
2021-06-07 12:30:00
AI in Digital Health Conference 2021
The AI in Digital Health Conference 2021 will be an online event through Zoom. It will offer a unique opportunity for engaging experienced grant reviewers who will provide insights into how to write competitive grants and avoid common pitfalls using AI in Digital Health. It is also a platform for networking, resource sharing, and training and education development. This conference is organized and hosted by the Center for Clinical and Translational Science and Translational Data Analytics Institute at The Ohio State University. It is also jointly sponsored by Washington University at Saint Louis, Indiana University, Northwestern University, University of Cincinnati, and Wake Forest University. If you have questions, please feel free to contact the conference program committee chair: Lang Li, Professor and Chair, Department of Biomedical Informatics, College of Medicine, The Ohio State University, Lang.Li@osumc.edu. Register here June 7 Introduction (Rebecca Jackson and Lang Li, 8:00-8:10) Session 1: AI resources (moderator: Andrew Young, 8:10 – 9:45) Tim Huerta (OSU)                                 8:10 – 8:35 Kun Huang (IU)                                     8:35 – 9:00 Yuan Luo (NW)                                      9:00 – 9:25 Panel discussion                                   9:25 – 9:45 Break                                                     9:45 – 10:00 Session 2: NIH study reviewer point of view (moderator: Simon Lin, 10:00 – 12:30) Philip Payne (Wash U)                          10:00 – 10:20 Lang Li (OSU)                                       10:20 – 10:40 Judith Dexheimer (CCHMC)                10:40 – 11:00 Panel discussion                                   11:00 – 12:30   June 8 Session 3: AI in drug repurposing (moderator: Xia Ning, 8:00 – 9:50) Stephanie Huang (UMN)                       8:00 – 8:30 Bridging Pre-Clinical Drug Screening with Patient Molecular Profiles for Biomarker Discovery & Drug Development Fuhai Li (Wash U)                                   8:30 – 9:00 Interpretable network AI models for drug combination prediction Feixiong Cheng (Cleveland Clinics)     9:00 – 9:30 Harnessing Network Medicine and Electronic Health Records for Drug Repurposing in COVID-19 Panel discussion                                    9:30 – 9:50 Break                                                       9:50 – 10:10 Session 4: AI in biomedical imaging (moderator: Ping Zhang/Kun Huang, 10:10 – 12:30) Lee Cooper (Northwestern)                10:10 – 10:40 Computational Pathology Le Lu (PAII Inc.)                                     10:40 -  11:10 Effective and Reproducible Precision Imaging Biomarkers for Pancreatic Cancer Screening, Diagnosis and Prognosis Tanveer F Syeda-mahmood (IBM)       11:10 – 11:40 Chest X-Ray Report Generation Through Fine-Grained Label Learning Lei Xing (Stanford)                                 11:40 – 12:10 Medical Imaging in the Age of Artificial Intelligence Panel discussion                                   12:10 – 12:30   June 9 Session 5: AI in genomics (moderator: Lijun Cheng, 8:00 – 10:20) Qin Ma (OSU)                                       8:00 – 8:30, Deep learning methods for cis-regulatory motif identification and gene regulatory mechanism elucidation. Dong Xu (Missouri),                             8:30 – 9:00,  A General Graph Neural Network Framework for Single-Cell Sequencing Data Analyses Bar-Joseph Ziv (CMU)                         9:00 – 9:30, Modeling dynamics to predict treatment Chi-Zhang (IU)                                      9:00 – 10:00, A graph neural network model to estimate cell-wise metabolic flux using single-cell RNA-seq data Panel discussion                                 10:00 – 10:20 Break                                                    10:20 – 10:30 Session 6: AI in health training and education (moderator: Judith Dexheimer, 10:30 – 12:30) Susan H. Fenton (UT)                           10:30 – 10:55 Courtney Hebert (OSU)                       10:55 – 11:20  Kristi Holmes (NW)                              11:20 – 11:45 Titus Schleyer (IU)                                 11:45 – 12:10 Panel discussion                                   12:10 – 12:30
Zoom
OSU ASC Drupal 8
ascwebservices@osu.edu
America/New_York
public
Add to Calendar
2021-06-08 08:00:00
2021-06-08 12:30:00
AI in Digital Health Conference 2021
The AI in Digital Health Conference 2021 will be an online event through Zoom. It will offer a unique opportunity for engaging experienced grant reviewers who will provide insights into how to write competitive grants and avoid common pitfalls using AI in Digital Health. It is also a platform for networking, resource sharing, and training and education development. This conference is organized and hosted by the Center for Clinical and Translational Science and Translational Data Analytics Institute at The Ohio State University. It is also jointly sponsored by Washington University at Saint Louis, Indiana University, Northwestern University, University of Cincinnati, and Wake Forest University. If you have questions, please feel free to contact the conference program committee chair: Lang Li, Professor and Chair, Department of Biomedical Informatics, College of Medicine, The Ohio State University, Lang.Li@osumc.edu. Register here June 7 Introduction (Rebecca Jackson and Lang Li, 8:00-8:10) Session 1: AI resources (moderator: Andrew Young, 8:10 – 9:45) Tim Huerta (OSU)                                 8:10 – 8:35 Kun Huang (IU)                                     8:35 – 9:00 Yuan Luo (NW)                                      9:00 – 9:25 Panel discussion                                   9:25 – 9:45 Break                                                     9:45 – 10:00 Session 2: NIH study reviewer point of view (moderator: Simon Lin, 10:00 – 12:30) Philip Payne (Wash U)                          10:00 – 10:20 Lang Li (OSU)                                       10:20 – 10:40 Judith Dexheimer (CCHMC)                10:40 – 11:00 Panel discussion                                   11:00 – 12:30   June 8 Session 3: AI in drug repurposing (moderator: Xia Ning, 8:00 – 9:50) Stephanie Huang (UMN)                       8:00 – 8:30 Bridging Pre-Clinical Drug Screening with Patient Molecular Profiles for Biomarker Discovery & Drug Development Fuhai Li (Wash U)                                   8:30 – 9:00 Interpretable network AI models for drug combination prediction Feixiong Cheng (Cleveland Clinics)     9:00 – 9:30 Harnessing Network Medicine and Electronic Health Records for Drug Repurposing in COVID-19 Panel discussion                                    9:30 – 9:50 Break                                                       9:50 – 10:10 Session 4: AI in biomedical imaging (moderator: Ping Zhang/Kun Huang, 10:10 – 12:30) Lee Cooper (Northwestern)                10:10 – 10:40 Computational Pathology Le Lu (PAII Inc.)                                     10:40 -  11:10 Effective and Reproducible Precision Imaging Biomarkers for Pancreatic Cancer Screening, Diagnosis and Prognosis Tanveer F Syeda-mahmood (IBM)       11:10 – 11:40 Chest X-Ray Report Generation Through Fine-Grained Label Learning Lei Xing (Stanford)                                 11:40 – 12:10 Medical Imaging in the Age of Artificial Intelligence Panel discussion                                   12:10 – 12:30   June 9 Session 5: AI in genomics (moderator: Lijun Cheng, 8:00 – 10:20) Qin Ma (OSU)                                       8:00 – 8:30, Deep learning methods for cis-regulatory motif identification and gene regulatory mechanism elucidation. Dong Xu (Missouri),                             8:30 – 9:00,  A General Graph Neural Network Framework for Single-Cell Sequencing Data Analyses Bar-Joseph Ziv (CMU)                         9:00 – 9:30, Modeling dynamics to predict treatment Chi-Zhang (IU)                                      9:00 – 10:00, A graph neural network model to estimate cell-wise metabolic flux using single-cell RNA-seq data Panel discussion                                 10:00 – 10:20 Break                                                    10:20 – 10:30 Session 6: AI in health training and education (moderator: Judith Dexheimer, 10:30 – 12:30) Susan H. Fenton (UT)                           10:30 – 10:55 Courtney Hebert (OSU)                       10:55 – 11:20  Kristi Holmes (NW)                              11:20 – 11:45 Titus Schleyer (IU)                                 11:45 – 12:10 Panel discussion                                   12:10 – 12:30
Zoom
OSU ASC Drupal 8
ascwebservices@osu.edu
America/New_York
public
Add to Calendar
2021-06-09 08:00:00
2021-06-09 12:30:00
AI in Digital Health Conference 2021
The AI in Digital Health Conference 2021 will be an online event through Zoom. It will offer a unique opportunity for engaging experienced grant reviewers who will provide insights into how to write competitive grants and avoid common pitfalls using AI in Digital Health. It is also a platform for networking, resource sharing, and training and education development. This conference is organized and hosted by the Center for Clinical and Translational Science and Translational Data Analytics Institute at The Ohio State University. It is also jointly sponsored by Washington University at Saint Louis, Indiana University, Northwestern University, University of Cincinnati, and Wake Forest University. If you have questions, please feel free to contact the conference program committee chair: Lang Li, Professor and Chair, Department of Biomedical Informatics, College of Medicine, The Ohio State University, Lang.Li@osumc.edu. Register here June 7 Introduction (Rebecca Jackson and Lang Li, 8:00-8:10) Session 1: AI resources (moderator: Andrew Young, 8:10 – 9:45) Tim Huerta (OSU)                                 8:10 – 8:35 Kun Huang (IU)                                     8:35 – 9:00 Yuan Luo (NW)                                      9:00 – 9:25 Panel discussion                                   9:25 – 9:45 Break                                                     9:45 – 10:00 Session 2: NIH study reviewer point of view (moderator: Simon Lin, 10:00 – 12:30) Philip Payne (Wash U)                          10:00 – 10:20 Lang Li (OSU)                                       10:20 – 10:40 Judith Dexheimer (CCHMC)                10:40 – 11:00 Panel discussion                                   11:00 – 12:30   June 8 Session 3: AI in drug repurposing (moderator: Xia Ning, 8:00 – 9:50) Stephanie Huang (UMN)                       8:00 – 8:30 Bridging Pre-Clinical Drug Screening with Patient Molecular Profiles for Biomarker Discovery & Drug Development Fuhai Li (Wash U)                                   8:30 – 9:00 Interpretable network AI models for drug combination prediction Feixiong Cheng (Cleveland Clinics)     9:00 – 9:30 Harnessing Network Medicine and Electronic Health Records for Drug Repurposing in COVID-19 Panel discussion                                    9:30 – 9:50 Break                                                       9:50 – 10:10 Session 4: AI in biomedical imaging (moderator: Ping Zhang/Kun Huang, 10:10 – 12:30) Lee Cooper (Northwestern)                10:10 – 10:40 Computational Pathology Le Lu (PAII Inc.)                                     10:40 -  11:10 Effective and Reproducible Precision Imaging Biomarkers for Pancreatic Cancer Screening, Diagnosis and Prognosis Tanveer F Syeda-mahmood (IBM)       11:10 – 11:40 Chest X-Ray Report Generation Through Fine-Grained Label Learning Lei Xing (Stanford)                                 11:40 – 12:10 Medical Imaging in the Age of Artificial Intelligence Panel discussion                                   12:10 – 12:30   June 9 Session 5: AI in genomics (moderator: Lijun Cheng, 8:00 – 10:20) Qin Ma (OSU)                                       8:00 – 8:30, Deep learning methods for cis-regulatory motif identification and gene regulatory mechanism elucidation. Dong Xu (Missouri),                             8:30 – 9:00,  A General Graph Neural Network Framework for Single-Cell Sequencing Data Analyses Bar-Joseph Ziv (CMU)                         9:00 – 9:30, Modeling dynamics to predict treatment Chi-Zhang (IU)                                      9:00 – 10:00, A graph neural network model to estimate cell-wise metabolic flux using single-cell RNA-seq data Panel discussion                                 10:00 – 10:20 Break                                                    10:20 – 10:30 Session 6: AI in health training and education (moderator: Judith Dexheimer, 10:30 – 12:30) Susan H. Fenton (UT)                           10:30 – 10:55 Courtney Hebert (OSU)                       10:55 – 11:20  Kristi Holmes (NW)                              11:20 – 11:45 Titus Schleyer (IU)                                 11:45 – 12:10 Panel discussion                                   12:10 – 12:30
Zoom
OSU ASC Drupal 8
ascwebservices@osu.edu
America/New_York
public
Date Range
Add to Calendar
2021-06-09 08:00:00
2021-06-09 12:30:00
AI in Digital Health Conference 2021
The AI in Digital Health Conference 2021 will be an online event through Zoom. It will offer a unique opportunity for engaging experienced grant reviewers who will provide insights into how to write competitive grants and avoid common pitfalls using AI in Digital Health. It is also a platform for networking, resource sharing, and training and education development. This conference is organized and hosted by the Center for Clinical and Translational Science and Translational Data Analytics Institute at The Ohio State University. It is also jointly sponsored by Washington University at Saint Louis, Indiana University, Northwestern University, University of Cincinnati, and Wake Forest University. If you have questions, please feel free to contact the conference program committee chair: Lang Li, Professor and Chair, Department of Biomedical Informatics, College of Medicine, The Ohio State University, Lang.Li@osumc.edu. Register here June 7 Introduction (Rebecca Jackson and Lang Li, 8:00-8:10) Session 1: AI resources (moderator: Andrew Young, 8:10 – 9:45) Tim Huerta (OSU)                                 8:10 – 8:35 Kun Huang (IU)                                     8:35 – 9:00 Yuan Luo (NW)                                      9:00 – 9:25 Panel discussion                                   9:25 – 9:45 Break                                                     9:45 – 10:00 Session 2: NIH study reviewer point of view (moderator: Simon Lin, 10:00 – 12:30) Philip Payne (Wash U)                          10:00 – 10:20 Lang Li (OSU)                                       10:20 – 10:40 Judith Dexheimer (CCHMC)                10:40 – 11:00 Panel discussion                                   11:00 – 12:30   June 8 Session 3: AI in drug repurposing (moderator: Xia Ning, 8:00 – 9:50) Stephanie Huang (UMN)                       8:00 – 8:30 Bridging Pre-Clinical Drug Screening with Patient Molecular Profiles for Biomarker Discovery & Drug Development Fuhai Li (Wash U)                                   8:30 – 9:00 Interpretable network AI models for drug combination prediction Feixiong Cheng (Cleveland Clinics)     9:00 – 9:30 Harnessing Network Medicine and Electronic Health Records for Drug Repurposing in COVID-19 Panel discussion                                    9:30 – 9:50 Break                                                       9:50 – 10:10 Session 4: AI in biomedical imaging (moderator: Ping Zhang/Kun Huang, 10:10 – 12:30) Lee Cooper (Northwestern)                10:10 – 10:40 Computational Pathology Le Lu (PAII Inc.)                                     10:40 -  11:10 Effective and Reproducible Precision Imaging Biomarkers for Pancreatic Cancer Screening, Diagnosis and Prognosis Tanveer F Syeda-mahmood (IBM)       11:10 – 11:40 Chest X-Ray Report Generation Through Fine-Grained Label Learning Lei Xing (Stanford)                                 11:40 – 12:10 Medical Imaging in the Age of Artificial Intelligence Panel discussion                                   12:10 – 12:30   June 9 Session 5: AI in genomics (moderator: Lijun Cheng, 8:00 – 10:20) Qin Ma (OSU)                                       8:00 – 8:30, Deep learning methods for cis-regulatory motif identification and gene regulatory mechanism elucidation. Dong Xu (Missouri),                             8:30 – 9:00,  A General Graph Neural Network Framework for Single-Cell Sequencing Data Analyses Bar-Joseph Ziv (CMU)                         9:00 – 9:30, Modeling dynamics to predict treatment Chi-Zhang (IU)                                      9:00 – 10:00, A graph neural network model to estimate cell-wise metabolic flux using single-cell RNA-seq data Panel discussion                                 10:00 – 10:20 Break                                                    10:20 – 10:30 Session 6: AI in health training and education (moderator: Judith Dexheimer, 10:30 – 12:30) Susan H. Fenton (UT)                           10:30 – 10:55 Courtney Hebert (OSU)                       10:55 – 11:20  Kristi Holmes (NW)                              11:20 – 11:45 Titus Schleyer (IU)                                 11:45 – 12:10 Panel discussion                                   12:10 – 12:30
Zoom
Translational Data Analytics Institute
tdai@osu.edu
America/New_York
public
Description
The AI in Digital Health Conference 2021 will be an online event through Zoom. It will offer a unique opportunity for engaging experienced grant reviewers who will provide insights into how to write competitive grants and avoid common pitfalls using AI in Digital Health. It is also a platform for networking, resource sharing, and training and education development.
This conference is organized and hosted by the Center for Clinical and Translational Science and Translational Data Analytics Institute at The Ohio State University. It is also jointly sponsored by Washington University at Saint Louis, Indiana University, Northwestern University, University of Cincinnati, and Wake Forest University.
If you have questions, please feel free to contact the conference program committee chair: Lang Li, Professor and Chair, Department of Biomedical Informatics, College of Medicine, The Ohio State University, Lang.Li@osumc.edu.
June 7
Introduction (Rebecca Jackson and Lang Li, 8:00-8:10)
Session 1: AI resources (moderator: Andrew Young, 8:10 – 9:45)
Tim Huerta (OSU)                                 8:10 – 8:35
Kun Huang (IU)                                     8:35 – 9:00
Yuan Luo (NW)                                      9:00 – 9:25
Panel discussion                                   9:25 – 9:45
Break                                                     9:45 – 10:00
Session 2: NIH study reviewer point of view (moderator: Simon Lin, 10:00 – 12:30)
Philip Payne (Wash U)                          10:00 – 10:20
Lang Li (OSU)                                       10:20 – 10:40
Judith Dexheimer (CCHMC)                10:40 – 11:00
Panel discussion                                   11:00 – 12:30
June 8
Session 3: AI in drug repurposing (moderator: Xia Ning, 8:00 – 9:50)
Stephanie Huang (UMN)                       8:00 – 8:30
Bridging Pre-Clinical Drug Screening with Patient Molecular Profiles for Biomarker Discovery & Drug Development
Fuhai Li (Wash U)                                   8:30 – 9:00
Interpretable network AI models for drug combination prediction
Feixiong Cheng (Cleveland Clinics)     9:00 – 9:30
Harnessing Network Medicine and Electronic Health Records for Drug Repurposing in COVID-19
Panel discussion                                    9:30 – 9:50
Break                                                       9:50 – 10:10
Session 4: AI in biomedical imaging (moderator: Ping Zhang/Kun Huang, 10:10 – 12:30)
Lee Cooper (Northwestern)                10:10 – 10:40
Computational Pathology
Le Lu (PAII Inc.)                                     10:40 -  11:10
Effective and Reproducible Precision Imaging Biomarkers for Pancreatic Cancer Screening, Diagnosis and Prognosis
Tanveer F Syeda-mahmood (IBM)       11:10 – 11:40
Chest X-Ray Report Generation Through Fine-Grained Label Learning
Lei Xing (Stanford)                                 11:40 – 12:10
Medical Imaging in the Age of Artificial Intelligence
Panel discussion                                   12:10 – 12:30
June 9
Session 5: AI in genomics (moderator: Lijun Cheng, 8:00 – 10:20)
Qin Ma (OSU)                                       8:00 – 8:30, Deep learning methods for cis-regulatory motif identification and gene regulatory mechanism elucidation.
Dong Xu (Missouri),                             8:30 – 9:00,  A General Graph Neural Network Framework for Single-Cell Sequencing Data Analyses
Bar-Joseph Ziv (CMU)                         9:00 – 9:30, Modeling dynamics to predict treatment
Chi-Zhang (IU)                                      9:00 – 10:00, A graph neural network model to estimate cell-wise metabolic flux using single-cell RNA-seq data
Panel discussion                                 10:00 – 10:20
Break                                                    10:20 – 10:30
Session 6: AI in health training and education (moderator: Judith Dexheimer, 10:30 – 12:30)
Susan H. Fenton (UT)                           10:30 – 10:55
Courtney Hebert (OSU)                       10:55 – 11:20
 Kristi Holmes (NW)                              11:20 – 11:45
Titus Schleyer (IU)                                 11:45 – 12:10
Panel discussion                                   12:10 – 12:30
Events Filters:
---