Image

Event Spaces in Pomerene Hall
Advanced
Text
Pomerene Hall event spaces are unavailable for rent during spring semester 2021 due to University event policy and conversion to alternative classroom space. Please contact tdai-events@osu.edu for information on future rental availability.
Text
Tours and Reservations
TDAI's beautifully modern spaces in Pomerene Hall are available to rent by members of the public, university faculty and staff, and recognized Ohio State student organizations. Contact TDAI Events today about hosting your next gathering in Ohio State's newly renovated campus gem located along picturesque Mirror Lake. Submit a request online, email TDAI Events, call 614-514-5990, or stop by 300 Pomerene and speak with Events Coordinator Dev Singer. Tours are available by appointment; email TDAI Events to schedule a time. We will respond to your request within two business days. TDAI reserves the right to decline or adapt any request.
First priority for space usage is given to TDAI initiatives, including research community of practice meetings and seminars, TDAI pilot funding teams, TDAI foundational industry partners, and special events. Meeting spaces and labs are then made available to all TDAI faculty affiliates as available. Larger rooms may also be rented for special events. As a research facility, TDAI spaces may not be used as a study area for students or postdocs.
Text
Pomerene Hall's event and meeting spaces seamlessly blend historic craftsmanship and architectural features with modern appointments and technology.
Text
Ideation Zone Max capacity: 130 with tables; 175 standing
A unique, two-story space featuring an upstairs loft, four huddle rooms, three labs, and flexible seating options furniture including rolling work stations; sofas, armchairs, and coffee and side tables; high top tables and chairs; and whiteboards and interactive displays. A large bartop area is perfect for catering, with a full-size refrigerator, sink, and microwave.
Media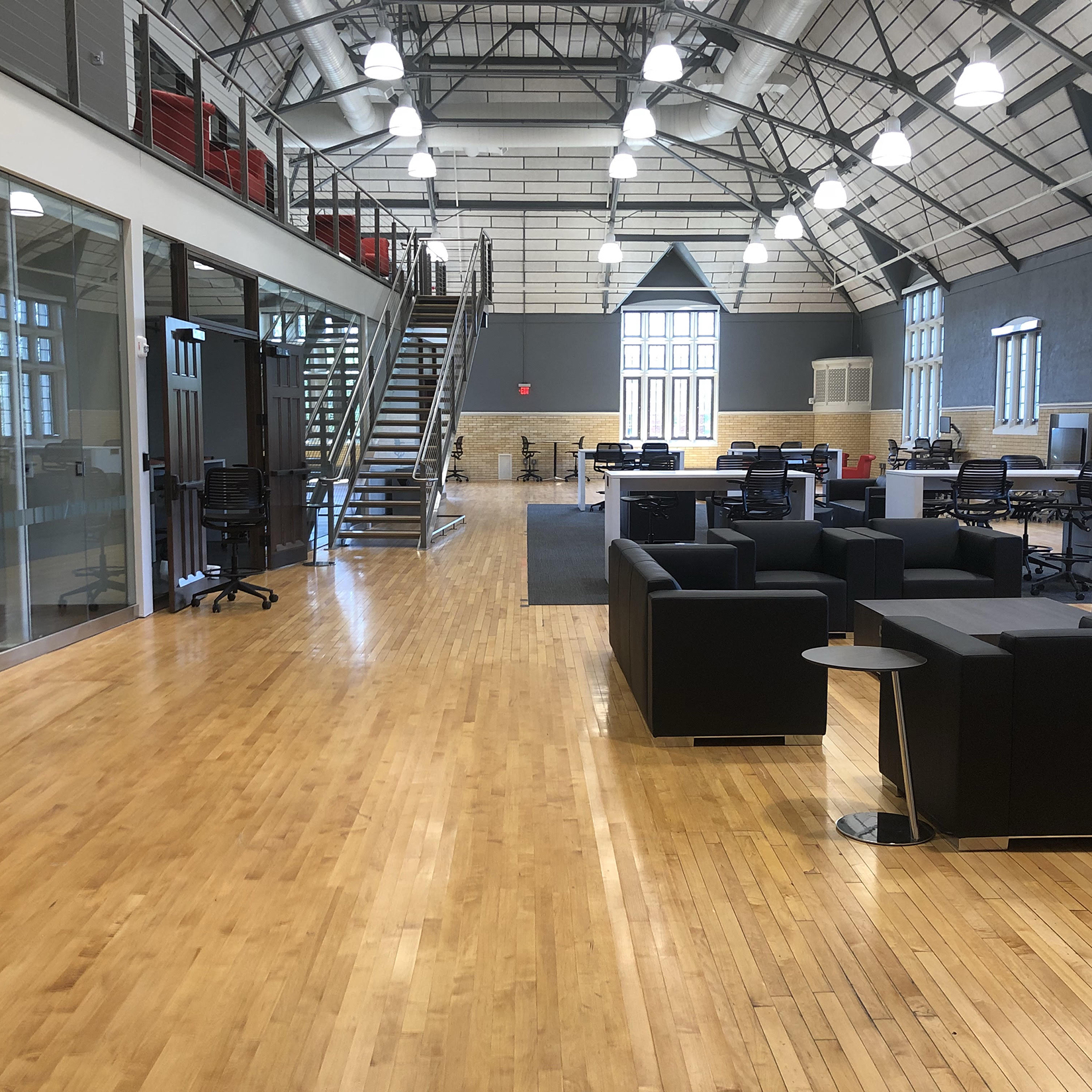 Text
Grand Atrium Max capacity: 90 with tables; 125 standing
A strikingly magnificent three-story space with a glass wall that looks out to a patio area and graceful landscaping, a sweeping glass staircase, interior balconies, and an original Sol LeWitt wall drawing that soars floor to ceiling. Features lounge chairs and coffee and side tables; user must provide any other furniture.
Media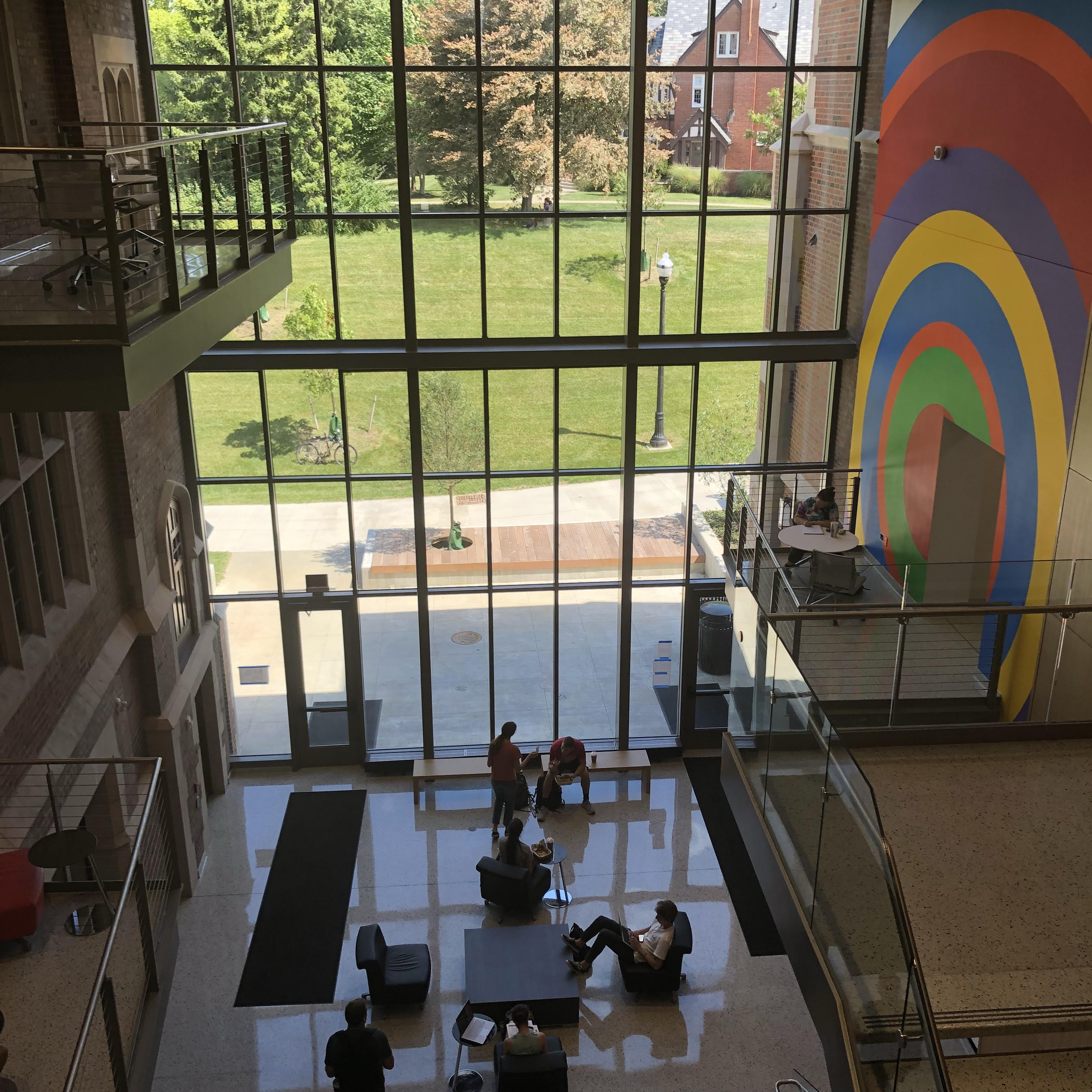 Text
Partner Zone Max capacity: 49
A customizable space overlooking Mirror Lake that can be configured into smaller, separate spaces with movable, floor-to-ceiling, sound-proof whiteboard walls. Features flexible seating options including rolling work stations; sofas, armchairs, and coffee and side tables; high top tables and chairs; and a bartop area with a small refrigerator. A/V components consist of wall-mounted and rolling LCD displays for presentations; pipe grids for rigging projectors; and whiteboards suitable as projection surfaces.
Media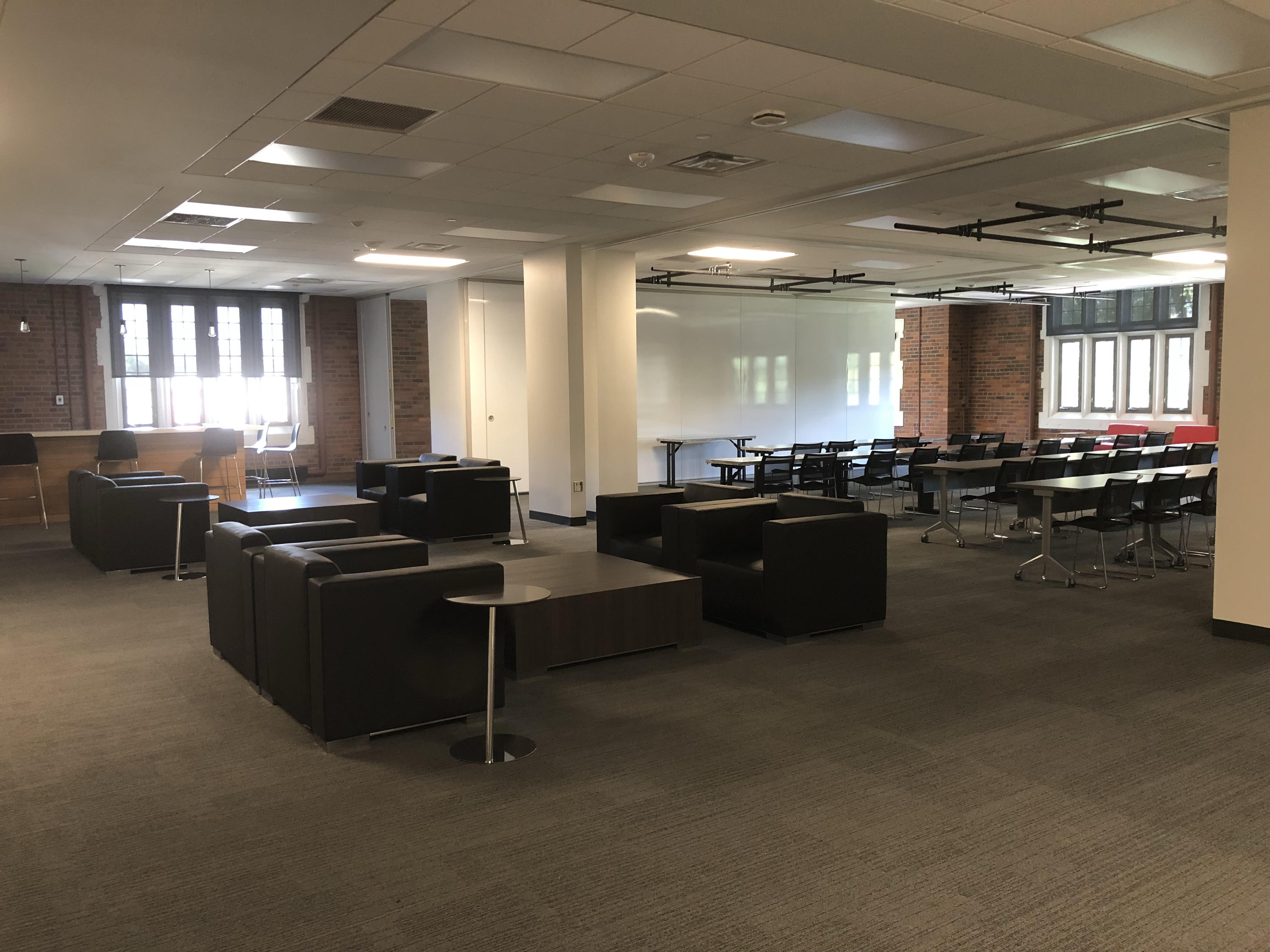 Text
Conference and Huddle Rooms Max capacities: 6-22
Meeting spaces featuring LCD displays, Skype calling and whiteboards.
Media